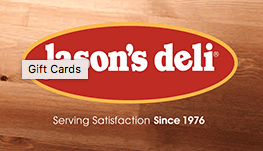 Instructions for Participating in Jason's Deli Group Order:
1. Click on the link (day/last name letter group) enter in your name and click "Add to Group Order."
2. Select your items and add them to your Cart.
3. Once all of your items have been added to the cart, click "Checkout."
4. Note* If paying separately, you will need to register an online account or login to an existing account, and add payment for your order.
5. Confirm that your order is correct and click "Add to Group Order."
6. Finally, you should receive a confirmation page stating "Thank You for Your Order."
Choosing link to order:
Choose Day (Saturday/Sunday)
Choose Group Order that corresponds with first letter of your last name
Orders must be placed before 7/17/2017 at 11:00 PM EST
Choose just box lunch options. If you choose any other item other than a box lunch, the deli will call to ask you to adjust. Please choose only a canned soda or bottled water for your beverage to make delivery of these items easier.
SATURDAY
Order Name: NCC Conf Saturday - ABCDE
https://online.jasonsdeli.com/#/addinviteetogrouporder/26042890/Cyt55viq
Order Name: NCC Conf Saturday - FGHIJ
https://online.jasonsdeli.com/#/addinviteetogrouporder/25902618/BRLopN90
Order Name: NCC Conf Saturday - KLMN
https://online.jasonsdeli.com/#/addinviteetogrouporder/25903112/T90wrzeO
Order Name: NCC Conf Saturday - OPQR
https://online.jasonsdeli.com/#/addinviteetogrouporder/25903192/CK5kuHn7
Order Name: NCC Conf Saturday - STUV
https://online.jasonsdeli.com/#/addinviteetogrouporder/25903252/iQ1OEsBk
Order Name: NCC Conf Saturday- WXYZ
https://online.jasonsdeli.com/#/addinviteetogrouporder/25903294/RbasARWT
SUNDAY
Order Name: NCC Conf Sunday - ABCDE
https://online.jasonsdeli.com/#/addinviteetogrouporder/25903794/A5mpMzCt
Order Name: NCC Conf Sunday - FGHIJ
https://online.jasonsdeli.com/#/addinviteetogrouporder/25903868/DSfW283n
Order Name: NCC Conf Sunday – KLMN
https://online.jasonsdeli.com/#/addinviteetogrouporder/25903918/QB1fiQ6J
Order Name: NCC Conf Sunday - OPQR
https://online.jasonsdeli.com/#/addinviteetogrouporder/25904010/JKzUBJCd
Order Name: NCC Conf Sunday - STUV
https://online.jasonsdeli.com/#/addinviteetogrouporder/25904106/v3jyvfjo
Order Name: NCC Conf Sunday- WXYZ
https://online.jasonsdeli.com/#/addinviteetogrouporder/25904348/oeZOqbKz